Regno Unito: May conferma la scelta della Brexit "dura", "via dal mercato comune"
Commenti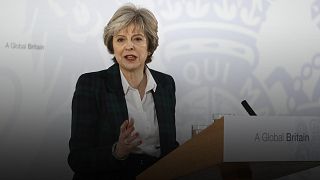 La prima ministra britannica Theresa May conferma che il Regno Unito abbandonerà il mercato unico europeo mentre negozierà un accordo doganale con l'Ue.
Theresa May: «Usciremo dal mercato unico europeo». Il Parlamento voterà su Brexit https://t.co/4DM40hkeagpic.twitter.com/sifuDT1AUA

— IlSole24ORE (@sole24ore) January 17, 2017
May ha proposto un accordo di transizione "flessibile" per attuare l'uscita del Regno, dicendosi contraria ad una "transazione indefinita" ma riconoscendo che in alcuni settori di mutuo interesse per Londra e Bruxelles è necessario adottare un "processo graduale".
12: We believe a phased process of implementation will be in the interests of Britain, the EU institutions and member states. pic.twitter.com/5gMEb1Klpk

— UK Prime Minister (@Number10gov) 17 janvier 2017
La prima ministra conservatrice ha anche messo in guardia l'Unione Europea da un eventuale accordo "punitivo" nei confronti del Regno Unito. "Danneggerebbe la stessa Unione Europea", ha affermato May.
"Lasciamo l'Unione Europea, ma non lasciamo l'Europa. Per questo cerchiamo un partenariato nuovo e giusto, fra un Regno Unito indipendente, autonomo e globale e i nostri amici e alleati nell'Unione Europea. Non vogliamo un'appartenenza parziale all'Unione Europea né un accordo di associazione né qualsiasi altro accordo che ci lasci metà dentro metà fuori".
Il Regno Unito intende dunque continuare la collaborazione con i suoi partner europei nella lotta al crimine e al terrorismo e nella politica
estera, ha sottolineato May che entro fine marzo intende avviare la procedura di uscita attivando l'articolo 50 del Trattato di Lisbona, che sarà seguita da due anni di negoziati.
11: We will continue to work closely with our European allies in foreign and defence policy even as we leave the EU itself. pic.twitter.com/lZaO9qhmyS

— UK Prime Minister (@Number10gov) 17 janvier 2017