Sparatoria all'aeroporto di Miami: il sospettato rischia la pena di morte
Commenti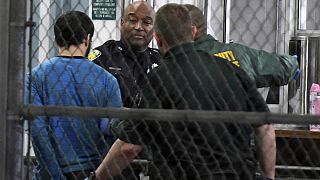 Le autorità americane hanno ufficialmente incriminato Esteban Santiago, l'americano veterano dell'Iraq che venerdì ha sparato all'aeroporto di Fort Lauderdale di Miami in Florida uccidendo cinque persone e ferendone sei. Lunedì Santiago si presenterà in tribunale per rispondere di omicidio plurimo a mano armata e atti violenti in un aeroporto internazionale. Se condannato, rischia la pena di morte.
FBIMiamiFL</a> is investigating the fatal shooting. The suspect, Esteban Santiago, is expected to be in federal court Mon. Nothing further.</p>&mdash; Broward Sheriff (browardsheriff) 7 gennaio 2017
Il fratello dell'imputato, dal Puerto Rico, ricorda che Esteban, già paziente psichiatrico, andò dall'FBI a dire che la sua mente era controllata: "Lo sapevano da tempo, non possono dire che si tratti di una persona che ha agito dalla sera alla mattina. Loro sapevano già dei pensieri che aveva, questo mi fa arrabbiare
"Voglio essere chiaro, non è mai stato musulmano, Vanno dicendo su internet che si radicalizzo' e cose del genere.No. Non è mai accaduto, non ha mai fatto parte mi movimenti islamisti" – ha detto Bryan Santiago Ruiz.
Intanto l'aeroporto di Fort Lauderdale è tornato alla normale attività. Per le autorità federali è chiaro che Santiago ci sia andato con l'intenzione di compiere l'attacco ma non si sa perché abbia scelto proprio lo scalo di Miami come scena del crimine.
"When you have a lone wolf who wants to conduct some cowardly, heinous act there's not much else anyone can do about it."-Sheriff Israel pic.twitter.com/paSQKhdIjU

— Broward Sheriff (@browardsheriff) 7 gennaio 2017