Michelle Obama si congeda da first lady e piange
Commenti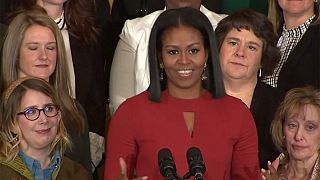 Ultimo discorso di Michelle Obama alla casa bianca. L'occasione, per la first lady piena di emozione, è stata la cerimonia per celebrare lo School counselor of the year , riconoscimento che quest'anno è andato a un' insegnante del Michigan.
"Being your First Lady has been the greatest honor of my life, and I hope I made your proud." -The First Lady

— The First Lady (@FLOTUS) 6 gennaio 2017
Il discorso è stato tutto incentrato sui giovani e l'educazione:"Se voi o i vostri genitori siete immigrati, sappiate che fate parte di un'orgogliosa tradizione americana: è stato l'arrivo di nuove culture, talenti, idee, generazione dopo generazione, che ha reso il nostro Paese il più grande del mondo. La nostra gloriosa diversità, le nostre differenze di credo religioso, di colore e opinioni, tutto questo non è una minaccia a quello che siamo ma è quel che siamo. Essere la vostra first lady è stato l'onore più grande della mia vita. E spero di avervi reso orgogliosi".
L'ultimo discorso di Barak Obama, invece, si terrà a Chicago il 10 gennaio.