Stati Uniti: per Obama sangue dei siriani è sulle mani di Assad, Russia e Iran
Commenti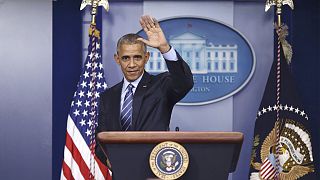 La crisi in Siria e le ingerenze degli hacker russi nelle elezioni statunitensi: Barack Obama si è soffermato a lungo su questi temi nella sua ultima conferenza stampa di fine anno.
Il presidente uscente ha chiesto il dispiegamento di osservatori imparziali ad Aleppo per verificare tra l'altro l'evacuazione degli abitanti e dei ribelli.
"C'è una strategia deliberata per accerchiare, assediare e affamare civili innocenti", ha detto Obama. "Il personale umanitario e quello medico vengono colpiti in maniera inarrestabile. Interi quartieri sono ridotti a macerie e polvere. Ci sono continuamente notizie di esecuzioni di civili. Sono tutte orribili violazioni del diritto internazionale. La responsabilità per questa brutalità è del regime di Assad e dei suoi alleati, Russia e Iran, quelle atrocità sono sulle loro mani".
"These are all horrific violations of international law." —POTUS</a> on the situation in Aleppo: <a href="https://t.co/JOcKY8N3bZ">https://t.co/JOcKY8N3bZ</a></p>&mdash; The White House (WhiteHouse) 16 décembre 2016
Sul pirataggio ai danni del partito democratico, Obama ha affermato di aver già chiesto a settembre direttamente al presidente russo Putin di fermare i cyberattacchi altrimenti le conseguenze sarebbero state gravi.
"Non accadono molte cose in Russia senza l'avallo di Vladimir Putin", ha affermato il presidente statunitense. "È l'operazione di una gerarchia. Non c'è molto dibattito né una discussione democratica in particolare sulle politiche nei confronti degli Stati Uniti".
Obama, che trascorrerà le prossime due settimane in famiglia alle Hawaii e lascerà la Casa Bianca il 20 gennaio, si è augurato che il successore Trump condivida le sue stesse preoccupazioni sulle azioni della Russia.