Siria: nuovi colloqui USA-Russia su Aleppo
Commenti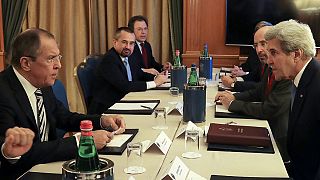 Nuovi colloqui tra diplomatici statunitensi e russi per il cessate-il-fuoco ad Aleppo si terranno la settimana prossima. Lo ha annunciato il segretario di Stato americano. John Kerry, a Roma per il Forum Med 2016, ha discusso con vari partner internazionali della possibilità che tutte le parti siriane possano tornare a Ginevra per parlare di pace.
"Non c'è problema nel consegnare aiuti ad Aleppo Est"

Ministro degli Esteri russo
Valuable #MED2016 initiative is giving momentum to cooperation around the Mediterranean -on security, prosperity, migration and media. pic.twitter.com/D0uPfl9Nr4

— John Kerry (@JohnKerry) December 2, 2016
Il ministro degli Esteri russo dichiara che ora la strada per Aleppo Est è sicura.
"Abbiamo informato le Nazioni Unite a New York e a Ginevra – afferma Serghiei Lavrov – che non c'è problema nel consegnare aiuti ad Aleppo Est, e tutto ciò che serve per consentirlo è raggiungere un accordo con il governo siriano perché autorizzi il passaggio di questi convogli nell'area. Ora non corrono rischi."
Meno ottimista la visione di John Kerry, secondo cui "Aleppo è finita, ma anche la
Russia ha bisogno della pace e riprendere i negoziati sarà compito della prossima amministrazione statunitense, sotto la guida dell'Onu".
Mosca si dice prontissima a collaborare con Donald Trump contro l'Isil.