"Non è il mio presidente": Stati Uniti ancora in strada contro Trump
Commenti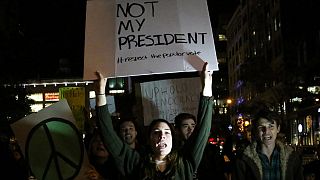 "Non è il mio presidente": sotto questo e altri slogan per la seconda notte consecutiva in tutti gli Stati Uniti, da New York a Washington, in decine di migliaia hanno protestato contro l'elezione di Trump.
Thousands of demonstrators around the US take to streets for 2nd night in a row to protest election of Donald Trump. https://t.co/TQOkZd2cy2pic.twitter.com/MnHDV716R5

—

ABC

News (@ABC) 11 November 2016
Almeno 30 persone sono state arrestate a Manhattan. In migliaia hanno sfidato la pioggia e marciato verso Midtown fino alla Trump Tower sulla Fifth Avenue, dove risiede il nuovo presidente Usa. A Washington davanti alla Casa Bianca una folla di persone si è radunata per esprimere la propria rabbia e tristezza per la sconfitta di Hillary Cinton. Per le strade tanti giovani.
"Siamo molto più numerosi di quanto non lo siano loro. Hillary ha vinto il voto popolare, l'amore trionfa sull'odio. Dobbiamo portare avanti questa battaglia, per favore", grida una giovane. "Donald Trump deve sapere che non siamo contenti delle sue affermazioni per le quali non si è scusato, non si è presentato come un vero americano per tutti gli americani, per questo dovrebbe dimettersi", aggiunge un'altra. "Siamo una nazione di immigrati e di grandi lavoratori. I più deboli hanno sempre portato benefici al paese", urla un'altra ancora.
Singer-songwriter Leonard Cohen dies at age 82: Facebook page https://t.co/QhQbpwYecJ

— Reuters Top News (@Reuters) 11 November 2016
Il timore dei dimostranti è che ora Trump trasformi in fatti le sue uscite infelici su migranti, donne e musulmani. Per Trump sono solo "contestatori di professione, incitati dai media". Cosi li ha definiti su twitter dove ha bollato come "ingiuste" le proteste.
Just had a very open and successful presidential election. Now professional protesters, incited by the media, are protesting. Very unfair!

— Donald J. Trump (@realDonaldTrump) 11 November 2016