Shimon Peres: le reazioni dei leader internazionali
Commenti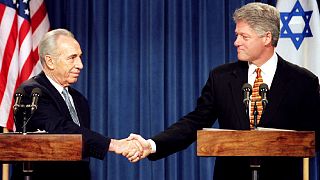 La notizia della morte di Shimon Peres campeggia sulle prime pagine dei giornali di tutto il mondo, e a maggior ragione in Israele, dove si percepisce una costernazione diffusa, anche se non è un colpo arrivato d'improvviso.
Le reazioni internazionali arrivano via twitter: frasi più o meno di prammatica, predisposte da giorni da parte deloo staff dei principali dirigenti politici mondiali.
"Si è spenta una luce, ma la speranza che ci ha dato resterà sempre accesa", twitta la Casa Bianca, il cui ex inquilino Bill Clinton dice poi che Peres gli mancherà. E definisce Peres un amico, e "una benedizione per tutti quelli che lottano per la pace".
"A light has gone out, but the hope he gave us will burn forever." —POTUS</a> on the passing of Shimon Peres: <a href="https://t.co/kfiWabFROR">https://t.co/kfiWabFROR</a> <a href="https://t.co/hC021MJlBD">pic.twitter.com/hC021MJlBD</a></p>&mdash; The White House (WhiteHouse) September 28, 2016
I will miss Shimon Peres, my brilliant and eloquent friend. His life was a blessing to all who strive for peace. https://t.co/7aIk3mt3Ogpic.twitter.com/Iosr09jQq9

— Bill Clinton (@billclinton) September 28, 2016
Peres era un "gigante politico", per Tony Blair. "Qualcuno che amavo molto", aggiunge l'ex premier britannico.
Shimon Peres was a political giant, a statesman who will rank as one of the foremost of this era or any era, and someone I loved deeply.

— Tony Blair Office (@tonyblairoffice) September 28, 2016
Federica Mogherini parla di "cuore spezzato" dalla notizia della morte di Peres. Il solo modo di onorarlo, aggiunge, è perseguire la soluzione dei due Stati. Un tweet che ha generato qualche risposta polemica, mentre va più sul sicuro François Hollande: Peres era un uomo di Stato illustre e un grande amico della Francia, secondo il presidente francese.
Heartbroken at death of PresidentPeres</a>: man of peace, immense source of inspiration. Only way to honour memory is heading towards 2 States</p>&mdash; Federica Mogherini (FedericaMog) September 28, 2016
Queste sono solo alcune delle reazioni di un mondo politico globale che si esprime sempre più via Twitter: reazioni non sempre apprezzate, ma a volte sentite e comunque sempre obbligatorie.
Prime Minister Benjamin Netanyahu and his wife Sara express deep personal sorrow over the passing of former President of Israel Shimon Peres

— PM of Israel (@IsraeliPM) September 28, 2016