USA: due neri uccisi dalla polizia, si riaccendono le proteste
Commenti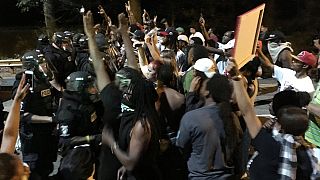 Violente proteste a Charlotte, in Nord Carolina, dopo l'uccisione di un 43enne di colore da parte della polizia, che dava la caccia a un ladro.
La vittima si chiamava Keith Lamont e secondo le forze dell'ordine era armata.
Una folla infuriata si è radunata vicino all'Università mentre gli agenti stavano interrogando i testimoni.
Distrutta una decina di auto della polizia.
Bloccata un'importante arteria autostradale.
VIDEO: Demonstrators in Charlotte, North Carolina attack police car during protests. https://t.co/bSFCHMvOlp

— The Associated Press (@AP) September 21, 2016
Molti agenti in tenuta
antisommossa sono stati schierati su due file di fronte ai
manifestanti, che scandivano slogan come "la vita dei neri
conta", e "mani in alto, non sparate".
RAWVIDEO: Street protests in Charlotte after police shooting. https://t.co/197OYpXjfB

— The Associated Press (@AP) September 21, 2016
Il poliziotto che ha premuto il grilletto, anch'egli nero, è stato sospeso in attesa dell'esito dell'inchiesta.
"L'uomo era armato, abbiamo ritrovato un'arma da fuoco" afferma il capo della polizia di Charlotte, Kerr Putney. "Li ha minacciati e per questo almeno uno degli agenti gli ha sparato. Ora è morto."
La protesta segue di poche ore quella che si è tenuta a Tulsa, in Oklahoma, per denunciare l'uccisione di un'altra persona di colore, in questo caso disarmata.