Nba: vittoria di Miami in semifinale, costringe Toronto a un decisivo match 7
Commenti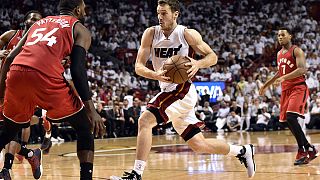 Miami si salva e trascina il Toronto alla gara 7 di Nba, l'ultima, per giocarsi il posto in finale. I Raptors erano in vantaggio di 3 match a 2 e avrebbero potuto chiudere a loro favore la contesa all'interno della Eastern Conference.
Gli Heat cominciano a fare la differenza nel secondo quarto grazie a Goran Dragic quando si portano in vantaggio di 14 punti, vantaggio che si riduce a 9 a metà partita. Dragic colleziona ben 30 punti complessivi.
"You have to give everything you have. There is no tomorrow."

-⚡️ on playing another Game 7. pic.twitter.com/RUeq9UzmXO

— Miami

HEAT

(@MiamiHEAT) 14 mai 2016
Per i Raptors ci pensano Kyle Lowry e DeMar DeRozan, con 36 e 23 punti rispettivi, a tener testa agli avversari.
Dwyane Wade aggiunge 22 per la squadra della Florida. Finisce 103 a 91.
Per sapere chi dei due sfiderà i Cleveland Cavaliers di Lebron James occorrerà aspettare domenica, quando si disputerà il match decisivo a Toronto.