Wisconsin: in festa Cruz e Sanders, ora si guarda alle primarie di New York
Commenti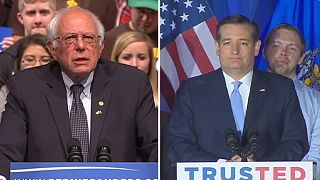 Nel Wisconsin è il giorno del repubblicano Ted Cruz e del democratico Bernie Sanders, sono loro a portare a casa le primarie per le presidenziali statunitensi. Un risultato politico che rimescola le carte in tavola e mantiene incerta la corsa elettorale. Cruz quasi doppia Donald Trump con un risultato che definisce "una svolta".
Tonight is a turning point. It is a rallying cry. Join us: https://t.co/XKeU2HUmCYhttps://t.co/u9ncj8apjm#ChooseCruz

— Ted Cruz (@tedcruz) 6 aprile 2016
"Dopo questo risultato con cui il Wisconsin ha sfidato i pronostici della stampa e degli esperti, sono sempre piu convinto che la nostra campagna otterrà i 1.237 delegati di cui ha bisogno per conquistare la nomination Repubblicana per le presidenziali di novembre", ha dichiarato il senatore Cruz.
Esulta anche Bernie Sanders che ottiene il suo sesto successo consecutivo contro Hilary Clinton: "Abbiamo vinto sette degli ultimi otto caucus e primarie la vittoria nella maggior parte dei casi è stata schiacciante", ha detto il candidato democratico.
The corporate media and establishment keep counting us out, but we keep winning by large margins. Keep us going: https://t.co/jbKRk7DsGg

— Bernie Sanders (@BernieSanders) 6 aprile 2016
Bernie Sanders si gode il suo momento di gloria anche se, numeri alla mano, la ex first Lady resta in testa nel conto dei delegati, un vantaggio difficile da colmare. Ora si guarda alle fondamentali primarie di New York, dove si voterà il 19 aprile e che potrebbero essere l'ago della bilancia.