Francia e Iran: si apre una nuova era, impegno per la stabilità in Medio Oriente
Commenti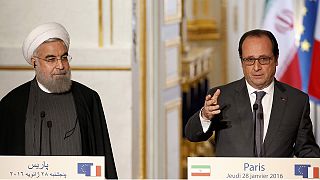 Un nuovo capitolo di storia si scrive tra Francia e Iran. Hollande e Rohani, in visita a Parigi, rilanciano i rapporti economici, culturali e diplomatici tra i due Paesi dopo la revoca delle sanzioni all'Iran. Non avveniva dal 1999 che un presidente iraniano venisse in Francia.
"Non voglio che le persone pensino che, dato che l'accordo sul nucleare è stato siglato, le nostre imprese possono finalmente riprendere le loro attività e sviluppare gli scambi, l'Iran e la Francia non debbano dividersi la responsabilità di risolvere la crisi nella regione", ha detto François Hollande.
Al centro dell'incontro anche la situazione in Medio Oriente, partire dal conflitto siriano.
"È il popolo siriano che deve decidere per il proprio paese. È chiaro che alcuni siriani vogliono delle elezioni, vogliono essere eletti ma la persona scelta deve essere accettata dalla tutta la popolazione. Oggi in Siria il problema non riguarda le persone ma il terrorismo, l'Isil è il problema", ha detto Hassan Rohani.
If combatting #terrorism is not taken seriously, it will spread to every corner of the world.

— Hassan Rouhani (@HassanRouhani) 28 Gennaio 2016
Il 29 avranno inizio i negoziati di Ginevra con un primo obiettivo di cessate il fuoco in Siria. La recente crisi tra Iran – principale alleato regionale di Damasco – e Arabia saudita ha messo a dura prova la stabilità regionale minacciando il lavoro dell'Onu per favorire il dialogo tra il regime di Damasco e le opposizioni.