Attacchi a Parigi: la Francia bombarda Raqqa, roccaforte Isis in Siria
Commenti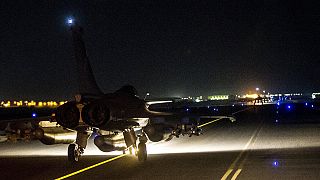 A meno di 48 ore dagli attentati di Parigi la Francia intensifica i raid in Siria e bombarda la roccaforte dell'autoproclamato Stato Islamico a Raqqa.
Il Ministero della Difesa francese ha annunciato una serie di operazioni condotte da 10 caccia decolatti da Emirati Arabi Uniti e Giordania. I velivoli hanno sganciato in totale 20 bombe su quella che è considerata la capitale e base di comando del gruppo jihadista che la Francia accusa per la serie di attentati di Parigi. E che, dal canto proprio, ha rivendicato gli attacchi.
#Raqqa this was the Sounds of The French Warplanes over #Raqqa city #Syria#ISIS#ISIL#ParisAttackspic.twitter.com/F0xjjn1Ikd

— الرقة تذبح بصمت (@Raqqa_SL) 16 Novembre 2015
I bombardamenti nella città del Nord della Siria sono già oggetto di critiche da parte delle organizzazioni umanitarie che sollevano l'interrogativo dell'impatto sulla popolazione civile.
Dal canto suo l'associazione "Raqqa is Being Slaughtered Silently" basata proprio a Raqqa che fa resistenza all'Isis ha affermato attraverso il proprio conto Twitter che al momento non ci sarebbero civili tra le vittime dei bombardamenti.
#Raqqa no Civilian got killed or Wounded by the Warplanes Airstrikes until now according to the #Raqqa Hospitals #Syria#ISIL#ISIS

— الرقة تذبح بصمت (@Raqqa_SL) 15 Novembre 2015