Sud Sudan: si schianta un aereo cargo, almeno 41 morti
Commenti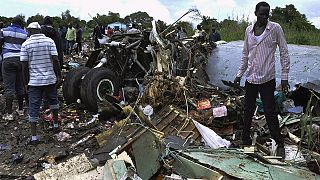 Sarebbero almeno 41, secondo i testimoni, le vittime dell'aereo cargo di fabbricazione russa che è precipitato a Giuba, nella capitale del Sudan del Sud, poco dopo il decollo.
Update: More than 40 killed in plane crash in Juba https://t.co/bp3X2yU0sS#EyeRadio

— Eye Radio Juba (@EyeRadioJuba) November 4, 2015
L'aereo, un Antonov 12 di una compagnia di trasporti locale, aveva una ventina di persone a bordo, tra equipaggio e passeggeri, ha fatto sapere il portavoce del presidente sud sudanese, Salva Kiir. Ci sarebbero tre superstiti. Nello schianto del velivolo, stando alle prime ricostruzioni, sarebbero state uccise anche persone che si trovavano a terra.
UPDATE 3: #JubaAirCrash: Over 40 Killed, Only Three Survived According to Director of JIA. #SouthSudan#SSudan… https://t.co/4oeQidUlUr

— The National Courier (@Nation_Courier) November 4, 2015
Secondo fonti di stampa del Paese, l'incidente è avvenuto a circa 800 metri dall'aeroporto di Juba, nell'isola Nabari, sulla riva orientale del Nilo Bianco. L'aereo era diretto a Paloich, nella regione dell'Alto Nilo.
L'incidente, dicono i periti accorsi sul luogo e citati da alcuni media, sarebbe dovuto al sovraccarico o a un guasto tecnico.
SOUTHSUDANCAA experts on site of the plane crash blamed overload and technical error as likely reasons..

— South Sudan Tribune (@ssudantribune) November 4, 2015