Armi ad Al-Qaeda in Siria. Nuove ombre sui ribelli addestrati dagli USA
Commenti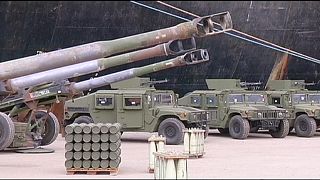 Ribelli addestrati dagli Stati Uniti hanno ceduto munizioni e veicoli al braccio siriano di Al Qaeda, per accedere a una zona da quest'ultimo controllata.
U.S.-trained Syrian rebels gave equipment to Nusra: U.S. military http://t.co/aUr0Ww0BFh

— Reuters Top News (@Reuters) 25 Settembre 2015
Piove sul bagnato della già contestatissima missione americana per la formazione dei combattenti siriani, chiamati a battersi contro l'ISIL. Alti comandi statunitensi fanno risalire l'accaduto al ventuno o ventidue settembre e lo stesso Pentagono conferma l'episodio attraverso il suo portavoce. Un episodio che le stesse fonti bollano come un'aperta violazione delle regole d'ingaggio sottoscritte dai partecipanti al programma.
#US has trained only 'four or five' #SyrianFighters against #Isis, top #general testifies | US news | The Guardian http://t.co/IkiSgn45oS

— smuggler (@hellfire56) 16 Settembre 2015
Appena pochi giorni fa, rispondendo nel corso di un'audizione al Senato americano, il generale Lloyd Austin aveva stimato in appena "quattro o cinque" i ribelli addestrati dagli Stati Uniti, ancora effttivamente operativi in Siria.