Giochi panafricani: cerimonia d'apertura tra danze e fuochi d'artificio
Commenti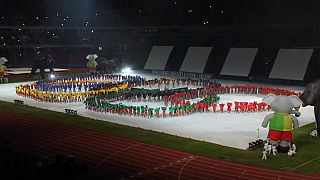 E' cominciata ufficialmente con una scintillante cerimonia di apertura l'11esima edizione dei Giochi Panafricani. Più di 8mila atleti da 49 paesi si sono ritrovati a Brazzaville, capitale del Congo, per sfidarsi in 22 discipline fino al 19 settembre.
LIVENOW (video): The Opening Ceremony of the All-Africa Games #Brazzaville2015! https://t.co/OGj8ZibQz1

— JA Brazzaville 2015 (@brazzaville2015) 4 Settembre 2015
"Vogliamo mostrare al mondo che il Congo è un paese pacifico – ha detto Alain Vitale Dimi, commissario tecnico della nazionale congolese di lotta -. E' per questo motivo che ci è stata affidata l'organizzazione dei Giochi, la cui prima edizione si è svolta proprio qui 50 anni fa. Per noi è un orgoglio, puntiamo a vincere a tante medaglie".
La cittadella sportiva di Kintélé dove si svolgeranno i Giochi è distante circa 25 chilometri dal centro. Lo stadio da 60mila posti che ha ospitato la cerimonia di apertura e dove si svolgeranno le gare di atletica è stato costruito appositamente per i Giochi.
Schedule, News, Highlights and more are now available on the official All-Africa Games #Brazzaville2015 Mobile App! http://t.co/42dHyQEEad

— JA Brazzaville 2015 (@brazzaville2015) 3 Settembre 2015