Incendio in un parco acquatico di Taiwan. Oltre 500 feriti, molti dei quali gravi
Commenti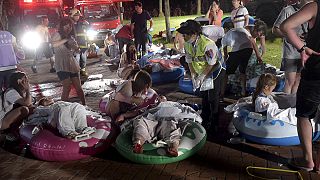 Si aggrava il bilancio del rogo scoppiato all'interno di un parco acquatico di Taiwan. Oltre 500, di cui quasi 190 in gravi condizioni, le persone rimaste ustionate secondo l'ultimo bilancio fornito dalle autorità sanitarie di Nuova Taipei.
Immagini diffuse da una tv locale hanno mostrato scene di panico e disperata fuga verso l'uscita delle centinaia di persone presenti.
~200 of 500+ injured have serious burns or respiratory injuries in Formosa Water Park blast/fire. #VOAalert#Taiwanpic.twitter.com/XPtuNZWf5z

— Steve Herman (@W7VOA) 28 Giugno 2015
L'incendio è divampato quando della polvere colorata che veniva spruzzata sul pubblico ha preso fuoco. Testimoni hanno riferito di una deflagrazione al lato del palco, che in principio ritenevano facesse parte degli effetti speciali dello spettacolo.
Number of injured in Taiwan water park blast jumps to at least 472, local media report. http://t.co/gpgt2UjXoGpic.twitter.com/KowwkMeG3M

— CNN Breaking News (@cnnbrk) 27 Giugno 2015
Un portavoce dei pompieri ha ipotizzato che a provocare l'esplosione sia stata la reazione prodotta sulle polveri colorate dal calore dei riflettori utilizzati per illuminare la scena. Il sindaco della città ha detto di aver ordinato l'apertura di un'inchiesta e l'immediata chiusura del parco acquatico. Fonti ospedaliere hanno parlato di numerosi feriti con ustioni su oltre il 40% del corpo.