Giochi Europei: Lady Gaga sul palco per la cerimonia di apertura
Commenti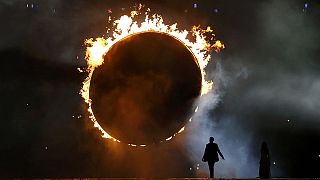 Si è aperta ufficialmente con la cerimonia inaugurale la prima edizione dei Giochi Europei che si svolgerà a Baku, in Azerbaigian.
I sang "Imagine" Words and Music By John Lennon for the Baku 2015 European Olympic Games pic.twitter.com/8WGkvdSHMt

— Lady Gaga (@ladygaga) 13 Giugno 2015
Alla cerimonia, diretta dal coreografo Dimitris Papaioannou, lo stesso di Atene 2004, hanno assistito diverse personalità del mondo politico e sportivo, tra cui il presidente azero Ilham Aliyev, il presidente russo Vladimir Putin e il numero uno del Comitato Olimpico Thomas Bach.
Sul palco a sorpresa anche Lady Gaga. La popstar americana si è esibita in una cover di Imagine di John Lennon. Seimila atleti da 50 nazioni saranno impegnati nella competizione che si chiuderà il 28 giugno. L'Italia è la terza nazione per numero di atleti dopo Russia (359) e Azerbaigian (289): 284, di cui 164 uomini e 120 donne.
Nel firmamento di #Baku2015 splende la nostra bandiera #ItaliaTeam protagonista ai Giochi Europei! QuintavalleGiu</a> <a href="http://t.co/jRM4glM2iV">pic.twitter.com/jRM4glM2iV</a></p>&mdash; CONI (Coninews) 12 Giugno 2015