Palma d'Oro: l'Italia a rischio
Commenti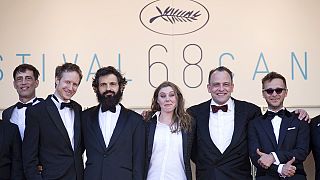 E' calato il silenzio a Cannes, nelle poche ore che precedono l'annuncio del vincitore della 68esima edizione del festival.
Tra i nomi sussurrati c'è"Son of Saul", dell'ungherese Laszlo Nemes Jeles, che avrebbe impressionato positivamente i Fratelli Cohen, oggi in giuria.
"Dare il premio a Son of Saul sarebbe davvero un atto coraggioso da parte della giuria, perché è un'opera prima. In caso contrario vorrei che la Palma d'Oro andasse a Jia Zhang Kye" ammette l'editorialista Joao Antunes del quotidiano portoghese "Jornal des Noticias".
"Mountains May Depart" del regista cinese Jia Zhang Kye ha impressionato positivamente pubblico e critica durante la quinzaine. Una pellicola complessa dove si racconta la Cina passata e contemporanea attraverso storie personali. Cinese è anche "The Assassin" altra pellicola data tra le favorite, quella del regista Hou Siau Sien.
"E' un'edizione dove non ci sono dei veri favoriti. Si parla molto dei film cinesi e di quelli italiani" spiega il nostro inviato a Cannes "La gara resta aperta fino all'ultimo momento e la consegna della Palma d'Oro potrebbe riservare qualche sorpresa".
Circolano con insistenza anche le voci che darebber ormai fuori i tre nomi italiani a Cannes. "Mia Madre" di Moretti che ha già vinto il premio ecumenico incontra il favore della critica, così come "La Giovinezza" di Sorrentino e "Il Racconto dei racconti" di Garrone.