Sci: Tina Maze si prende un anno sabbatico
Commenti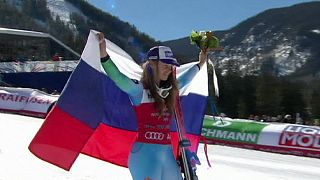 Si prende un break Tina Maze. La 32enne slovena ha deciso di fermarsi per un anno ed è stata lei stessa ad annunciarlo sui social networks.
Dear sport friends and my fans,As I did not officially announce my plans for the future yet, I thought it would be the…

Posted by Tina Maze on Mercoledì 6 maggio 2015
Queste le parole della campionessa olimpica a Sochi nel gigante e nella discesa, che nella passata stagione è rimasta in lotta per la sfera di cristallo fino all'ultima gara. La Maze nella sua brillante carriera ha vinto 26 gare in tutte le discipline, ha conquistato una Coppa del Mondo e quattro ori iridati.