Nepal, sale bilancio delle vittime. Washington stanzia un milione di dollari di aiuti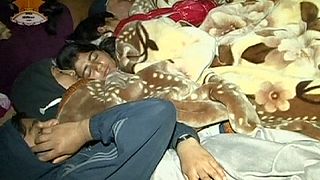 Prima notte nei rifugi per le decine di migliaia di sfollati del terremoto che sabato ha colpito il Nepal. Una scossa di magnitudo 7,8 della scala Richter, che avrebbe, secondo le ultime informazioni disponibili, causato quasi 2000 morti, oltre ad aver seminato distruzione e panico nel Paese.
The death toll continues to rise to over some 1,400 dead after a magnitude-7.8 earthquake shook Nepal on Saturday: http://t.co/kiGbxJa8hN

— Carly L. Marsh (@whoanowitscarly) April 25, 2015
Difficile per la comunità internazionale prestare soccorso e inviare aiuti umanitari ai sopravvissuti, l'aeroporto di Katmandu è inagibile e con esso anche molte delle strade principali del Paese.
Tra i sopravvissuti il timore di nuove violenti scosse.
Il forte sisma che sabato ha colpito il Nepal ha provocato vittime anche in Tibet e India. 18 alpinisti sono morti mentre si trovavano sull'Everest per le valanghe causate a seguito del terremoto.
Dan Fredinburg, a Google engineer, was among those killed in an avalanche on Everest triggered by Nepal earthquake http://t.co/17G8R6VojZ

— Wall Street Journal (@WSJ) April 25, 2015
"Una volta che avremo un'idea esatta dei danni, e speriamo di avercela entro domani, invieremo a Katmadu e a Pokara degli elicotteri" ha dichiarato il ministro degli esteri indiano "E' a loro che competeranno le operazioni di soccorso, il trasporto degli aiuti umanitari e la distribuzione del cibo".
Distrutta dal sisma anche la torre di Dharahara e altri monumenti simbolo di Katmandu. Dagli Stati Uniti l'annuncio di un piano di aiuti da un milione di dollari da destinare alle urgenze.