L'Inghilterra torna a seppellire Riccardo III. Con 5 secoli di ritardo
Commenti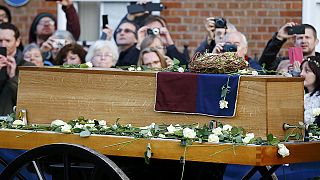 L'Inghilterra rende a Riccardo III gli omaggi che attendeva da 530 anni, esponendo i suoi resti alla cattedrale di Leicester, fino alla nuova sepoltura che gli verrà data giovedì.
That was quite a day #richardreburied#RichardIII@KRIIILeicesterpic.twitter.com/8g0OeBy4Ae

— Will Johnston (@WHLJohnston) 22 Marzo 2015
Ultimo regnante della casa di York che – secondo un celebre verso del "Riccardo III" di Shakespeare -, per il suo regno avrebbe dato un cavallo, il sovrano perse invece nel 1485 la battaglia che consegnò il Paese ai Tudor.
#KingRichardIII arrives at final resting place after 500 years. PHOTOS: http://t.co/P8EBFd6n9apic.twitter.com/tqsEdS5Z1R

— Canoe (@Canoe) 22 Marzo 2015
Nel 2012 il ritrovamento dei suoi resti, che per secoli riposarono in un convento, su cui fu poi costruito un parcheggio. Poi un'ultima battaglia, questa volta legale e persa dai discendenti, che ne volevano la sepoltura a York.
Coffin containing remains of #KingRichardIII at a ceremony on Bosworth battlefield (Getty) http://t.co/9UxpYKIcwIpic.twitter.com/nXVLI02x0K

— Telegraph Pictures (@TelegraphPics) 22 Marzo 2015
Da qui l'ultimo viaggio del sovrano verso la Cattedrale di Leicester e una cinque giorni di omaggi, iniziati domenica con una processione dal vicino campo di battaglia di Bosworth dove trovò la morte.
21 gun salute for #KingRichardIII during ceremony on Bosworth battlefield (AFP/Getty) http://t.co/9UxpYKZNogpic.twitter.com/SeE040FKBN

— Telegraph Pictures (@TelegraphPics) 22 Marzo 2015
''Riccardo III è per me una sorta di eroe – dice uno dei presenti alla cerimonia -. Si tratta in qualche modo di un sovrano incompreso ed è anche per questo che ho voluto rendere omaggio a una figura così importante della storia inglese".
C'è però anche chi per celebrare memoria e spoglie del sovrano arriva fin dall'altra sponda dell'Atlantico. "I suoi resti sono stati nascosti per secoli – dice una turista statunitense -. Qui almeno tutto il mondo potrà rendergli omaggio".
E stando al portavoce della Cattedrale di Leicester, un omaggio a Riccardo III – nella forma di un messaggio che sarà letto durante la cerimonia d'inumazione – arriverà giovedì anche dalla Regina.