Accordo per lo sminamento della Colombia dopo mezzo secolo di guerriglia.
Commenti
Di
Stefano Cutillo
Agenzie:
ICBLCMC: INTERNATIONAL CAMPAIGN TO BAN LANDMINES AND CLUSTER MUNITION COALI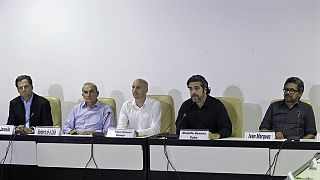 Il governo colombiano e i guerriglieri marxisti delle FARC hanno raggiunto un accordo per lo sminamento del Paese.
Lo hanno annunciato i loro emissari a Cuba, che da oltre due anni ospita i negoziati di pace tra Bogotà ed i guerriglieri in lotta da più di mezzo secolo.
Nel mondo solo in Afghanistan mine ed altri esplosivi fanno più vittime tra i bambini.