Tragedia sfiorata a New York. Aereo fuori pista manca di poco l'East River
Commenti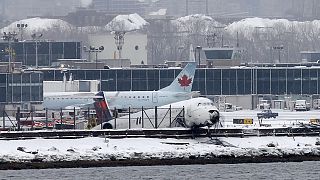 Appena qualche metro in più e l'aereo in arrivo da Atlanta uscito di pista all'aeroporto di New York La Guardia sarebbe finito nell'East River.
La pista era da poco stata sgombrata dalla neve. Altri aerei erano riusciti a frenare senza problemi
Live picture of the #Delta plane in the fence at #LaGuardiaAirport#livechannelpic.twitter.com/d4ZcVzav9r

— CBS Newspath (@cbsnewspath) 5 Marzo 2015
Al momento dell'incidente era in corso una violenta nevicata, ma le cause restano ancora ignote.
Un portavoce dei pompieri ha parlato di 24 feriti lievi, di cui 3 ricoverati per precauzione in ospedale.
People seen leaving #Delta airplane that skidded off the runway at #laguardia and slammed into a fence. @NYDailyNewspic.twitter.com/VZ599pd25G

— Marta Dhanis (@MartaDhanis) 5 Marzo 2015
"Poco prima che si verificasse l'incidente due altri aerei erano atterrati, riuscendo a frenare in maniera efficace – ha detto il portavoce dell'autorità portuale di New York e del New Jersey, Pat Foye -. La pista in questione era stata liberata dalla neve non molto tempo prima e i piloti di altri aerei hanno riferito di non aver riscontrato problemi nella frenata".
132 le persone che erano a bordo del volo 1086 della compagnia Delta.
Although 1 of #LGA's 2 runways has reopened (allowing air traffic to resume), travelers should still check flight status with airline.

— EWR JFK LGA SWF (@NY_NJairports) 5 Marzo 2015
Le piste del LaGuardia sono state chiuse appena dopo l'incidente, ma le autorità aeroportuali ne hanno poi annunciata la riapertura.