Germania, Pegida fomenta l'opposizione
Commenti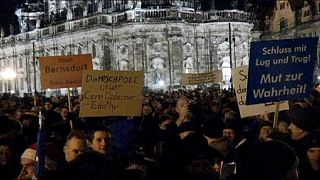 Diciassettemila persone in piazza a Dresda, in Germania, hanno manifestato contro l'islamizzazione dell'Occidente. Il consenso per il movimento anti-islamico Pegida (Patriotic Europeans against the Islamisation of the West) continua a crescere nel paese.
Ma aumenta anche l'opposizione al movimento. A Dresda oggi si sono riunite 4mila persone per una contro-manifestazione.
Lutz Bachmann, leader di Pegida: "La Germania non è terra di immigrazione. L'integrazione non significa vivere uno dietro l'altro, ma insieme e in base ai meriti cristiano-ebrei della nostra costituzione e della cultura tedesca con le sue radici, basate sui principi del Cristianesimo, dell'Umanesimo e dell'Illuminismo".
Nella capitale della Sassonia da ottobre, ogni lunedì si riuniscono i simpatizzanti di Pegida, che sono sempre più numerosi (erano 15mila lo scorso lunedì).
Nel movimento risultano essersi infiltrati estremisti di destra più o meno noti e la gente è preoccupata.
Tony Adam: "E' triste che stia succedendo tutto questo a Dresda, perchè dimostra che abbiamo ancora dei problemi con la destra".
Dorothea Steier: "E' tutto molto deprimente. La Germania ha avuto così tanti problemi in passato, è davvero terribile".
A Monaco contro Pegida vi erano 12mila persone a testimoniare il crescente interesse dei tedeschi nella creazione di un movimento di opposizione contro l'antisemitismo e la xenofobia.