Fine della missione Nato in Afghanistan. Kabul: "Ritiro troppo improvviso"
Commenti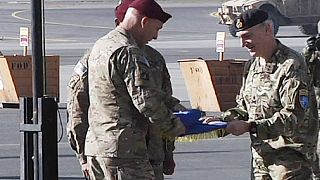 Nato e Stati Uniti che ammainano le loro bandiere e fanno armi e bagagli gettano nel panico l'Afghanistan.
#ISAF Joint Command ends mission, makes history #Afghanistan@NATOhttp://t.co/RzJPdwFTSs

— ISAF (@ISAFmedia) 8 Dicembre 2014
Alla cerimonia che a Kabul ha formalizzato la conclusione della missione di combattimento di Washington e Alleanza Atlantica ha risposto indirettamente il primo ministro Abdullah Abdullah, che in un'intervista ha parlato di "ritiro troppo improvviso".
Dal Regno Unito, tra i primi paesi ad aderire alla missione ISAF inviando i propri uomini già nel dicembre 2001, il premier David Cameron prova a rassicurare, dicendo che intercederà perché a Kabul non manchi nulla, nella sua battaglia per la sicurezza.
"10,800 troops, rather than 9,800, could remain in Afghanistan through the end of this year, and for the first few months in 2015."

— U.S. Dept of Defense (@DeptofDefense) 6 Dicembre 2014
Il Segretario alla difesa americano Chuck Hagel aveva promesso sabato un contingente addizionale di 1.000 uomini, che affiancherà i 9.800, lasciati dagli Stati Uniti in Afghanistan per addestrare le forze di sicurezza locali.