State of the Union: a Strasburgo si è scritto un pezzo di storia europea
Commenti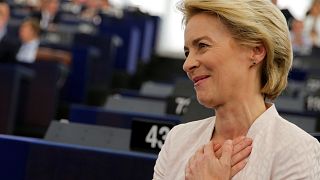 Ursula Von der Leyen è stata eletta presidente della Commissione europea. La prima donna a guidare l'istituzione è riuscita ad convincere il Parlamento europeo, con 383 voti favorevoli. La maggioranza che ha ottenuto è molto stretta e nei prossimi 5 anni potrebbe incontrare difficoltà.
Non pochi eurodeputati, come i Verdi e i sovranisti del gruppo Identità e Democrazia, si sono detti insoddisfatti del risultato, sebbene per ragioni diverse.
La nostra settimana europea riassunta nel video su State of the Union.