Puigdemont rifiuta di tornare in Spagna e resta in Belgio
Commenti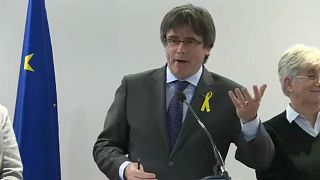 A Carles Puigdemont il Belgio piace cosi tanto che nonostante la Spagna abbia ritirato il mandato d'arresto europeo europei nei suoi confronti, ha deciso di rimanere. Durante una conferenza stampa mercoledì il leader catalano ha affermato che per tornare in patria ha bisogno di garanzie e che ciò avverrà una volta rieletto alla guida della Catalogna.
"Che paradosso sarebbe – ha affermato – se, dopo essere stato eletto, dovessi lasciare il parlamento in manette, questo è un paradosso che onestamente credo che lo stato spagnolo, una democrazia matura, non si possa permettere".
#UPDATE Deposed Catalan leader Puigdemont says that he will stay in Belgium "for now" despite Spain dropping European arrest warrants against him and four former ministers https://t.co/e7GgiflLVGpic.twitter.com/lnpgvMgzB7

—

AFP

news agency (@AFP) 6 dicembre 2017
Per il leader separatista il sistema giudiziario spagnolo è stato ridicolizzato, sebbene la decisione della giustizia spagnola abbia a che fare con questioni più tecniche che politiche.
"Dopo soltanto 30 giorni hanno dovuto ritirare il mandato d'arresto europeo perché temevano quello che il mondo avrebbe pensato. Hanno iniziato ritirando il mandato europeo, termineranno ritirando l'articolo 155 e porranno fine alla repressione".
Ana Lazaro Euronews
"Puigdemont e gli ex consiglieri svolgeranno la campagna elettorale dal Belgio. Intanto la capitale europea comincia a riempirsi di bandiere indipendentiste in vista della grande dimostrazione che i separatisti hanno organizzato per giovedì. "