Bruxelles lavora per un mercato digitale senza frontiere ma avverte "è una battaglia difficile per i forti gli interessi in gioco"
Commenti
Di Euronews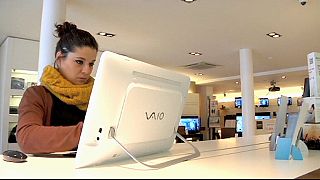 La Commissione europea mantiene un cauto ottimismo presentando a grandi linee la strategia per creare un mercato digitale. Il Vice-Presidente responsabile del dossier Andrus Ansip vuole eliminare le barriere nazionali del commercio elettronico, per ridurre i costi delle consegne oltre frontiera e favorire le piccole e medie imprese.
"In 6 weeks I will propose specific solutions" Ansip_EU</a> <a href="https://twitter.com/hashtag/DigitalSingleMarket?src=hash">#DigitalSingleMarket</a> <a href="https://twitter.com/DigitalAgendaEU">DigitalAgendaEUhttp://t.co/IEykLzwv6Tpic.twitter.com/M3YS4oxvwj

— European Commission (@EU_Commission) 25 Marzo 2015
Per Pet Strömbäck di Netopia, un'associazione che lavora per un mercato digitale piu' equo, è necessario proteggere gli interessi dei consumatori:
"Temo che se si prenderemo le decisioni sbagliate solo le aziende a livello globale ne trarranno vantaggio. E a lungo termine, non favorirà i consumatori europei, le imprese europee potrebbero avere piu' difficoltà a restare competitive. Non si tratta di sostenere il protezionismo, ma di sostenere una giusta concorrenza"
Ansip presenterà una strategia piu' dettagliata il sei maggio, ma intanto avverte "sarà una battaglia difficile" per i forti interessi nazionali in gioco.
I'm glad that Ansip_EU</a> is committed to ending <a href="https://twitter.com/hashtag/geoblocking?src=hash">#geoblocking</a>, but he&#39;s not saying how. <a href="https://twitter.com/hashtag/FixCopyright?src=hash">#FixCopyright</a></p>&mdash; Julia Reda (Senficon) 25 Marzo 2015
Sarcastica l'eurodeputata tedesca Julia Reda, eletta nel partito Pirata tedesco ed autore di un rapporto sulla controversa riforma del diritto di autore in Francia. Secondo Reda, il commissario europeo Ansip non spiega come intende abbattere le frontiere nazionali.