L'Orologio dell'Apocalisse, mancano 100 secondi: persi 50 secondi in tre anni
Commenti
Di Euronews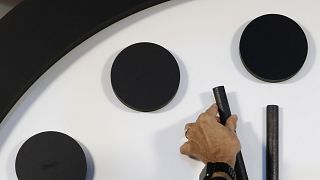 Diritti d'autore

AP Photo/Carolyn Kaster/ file
Attenzione! Mancano solo 100 secondi!
Le lancette dell'Orologio dell'Apocalisse (Doomsday Clock), strumento che dal 1947 simboleggia l'imminente arrivo di un cataclisma planetario, sono state fatte avanzare di 20 secondi dagli scienziati che lo gestiscono.
Allo scoccare della fatidica mezzanotte mancano, quindi, solo 100 secondi.
Mai così pochi.
Basti pensare che tre anni fa, nel 2017, all'Apocalisse mancavano 2 minuti e 30 secondi (150 secondi). Ora, dopo la "sparizione" di 50 secondi, siamo solo a 1 minuto e 40 secondi dalla Fine.
"Dobbiamo svegliarci"
"Dobbiamo svegliarci, il nostro pianeta rischia l'estinzione", ha tuonato la Presidente e Direttrice del Bulletin of Atomic Scientists, Rachel Bronson.
Presenti alla conferenza stampa di Washington, tra gli altri, Mary Robinson - ex Presidente d'Irlanda e già Alto Commissario delle Nazioni Unite per i Diritti Umani - e Ban Ki-Moon, ex Segretario Generale dell'ONU.
Eventi "apocalittici"
Secondo il "Bulletin of the Atomic Scientists" - che evidenzia i rischi dovuti a armi nucleari, tecnologie distruttive e cambiamenti climatici - il ritiro degli Usa dal trattato sul nucleare e le tensioni americane con Iran e Corea del Nord sono considerati i più pericolsi eventi "da Apocalisse".