Grammy Awards: trionfo per Childish Gambino, Kacey Musgraves e Lady Gaga
Commenti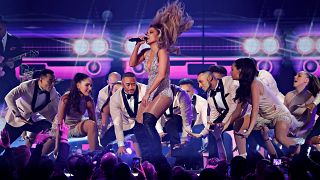 Diritti d'autore

REUTERS/Mike Blake
Allo Staples Center di Los Angeles, si è tenuta la 61esima edizione dei Grammy Awards, i massimi premi in ambito musicale.
Il premio per il "Best New Artist" va alla britannica di origini albanesi, Dua Lipa, mentre la cantautrice statunitense Kacey Musgraves si aggiudica il grammofono più importante, "Album Of The Year", con Golden Hour.
Il predominio femminile è interrotto dal rapper Childish Gambino, che con This Is America vince il premio per la migliore canzone.
Trionfo anche per Lady Gaga e Bradley Cooper, la cui Shallow (tratta dal film A Star is Born) si aggiudica il "Best Pop/Duo Group Performance" e il "Best Song For Visual Media".
La popstar di origini siciliane si assicura anche il "Best Solo Pop Performance" per Joanne, singolo estratto dall'omonimo album dello scorso anno.
Ovazione del pubblico, poi, quando Alicia Keys - presentatrice della kermesse - arriva sul palco con Jennifer Lopez e Michelle Obama, che trasmette un messaggio sulla musica e le potenzialità delle donne.
Dolly Parton, insignita del riconoscimento "Person of the Year", dà spettacolo con la sua Nine To Five, in compagnia di Miley Cyrus, Pink e Katy Perry.
Vince anche Ariana Grande, che porta a casa il "Pop Vocal Album" per Sweetener, nonostante l'aperta polemica con la Direzione artistica, a causa della quale non partecipa all'evento.
Premio alla carriera, infine, anche per l'evergreen Diana Ross, nella circostanza "signora in rosso".