Oscar, La forma dell'acqua è il miglior film. L'elenco di tutte le statuette
Commenti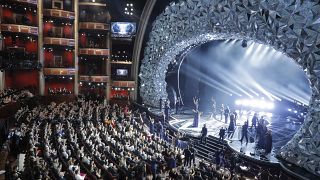 Il film La forma dell'acqua - The shape of the water, diretto da Guillermo del Toro, ha vinto l'Oscar 2018 come miglior film. L'Italia è stata in qualche modo rappresentata dalla statuetta per miglior sceneggiatura non originale al film di Luca Guadagnino, Chiamami col tuo nome (James Ivory).
Alla 90esima edizione del premio, presentata da Jimmy Kimmel per il secondo anno di fila, la pellicola di del Toro ha vinto la concorrenza di Get Out, Lady Bird e _Three Billboards Outside Ebbing, Missouri. _Il film del regista messicano (13 nomination) porta a casa 4 premi.
Guillermo del Toro si è anche aggiudicato il premio come miglior regista. Si tratta della sua quarta nomination ma è la prima volta che vince l'Oscar. Il film ha vinto anche il Leone d'oro a Venezia nel 2017.
Il miglior attore è stato votato Gary Oldman per L'ora più buia.
Miglior attrice a Frances McDormand per Tre manifesti a Ebbing, Missouri
TUTTI GLI ALTRI PREMI
Miglior film straniero al cileno A Fantastic Woman di Sebastián Lelio;

Miglior attore non protagonista: Sam Rockwell per _Tre Manifesti a Ebbing, Missouri; _

Miglior attrice non protagonista a Allison Janney per Io, Tonya;

Miglior cortometraggio documentario a Heaven is a Traffic Jam on the 405 di Frank Stiefel;

Miglior film d'animazione va a Coco di Lee Unkrich e Darla K. Anderson;

Dan Cogan ha vinto l'Oscar 2018 come miglior documentario;

Miglior corto a The Silent Child di Chris Overton e Rachel Shenton;

Cortometraggio animato: Dear Basketball di Glen Keane e Kobe Bryant;

Miglior sceneggiatura originale va a Jordan Peele per Scappa - Get Out;

Miglior fotografia a Roger Deakins per _Blade Runner 2049. _

Miglior colonna sonora originale a Alexander Desplat per il film The Shape of Water;

Miglior canzone a Remember me di Kristen Anderson-Lopez, Robert Lopez in Coco.
PREMI TECNICI
Miglior sonoro e Miglior montaggio sonoro vanno a Richard King e Alex Gibson per Dunkirk;
Il premio per i Migliori effetti speciali va a John Nelson, Paul Lambert, Richard R. Hoover e Gerd Nefzer per _Blade Runner 2049; _
La statuetta al Miglior montaggio è invece di Lee Smith per Dunkirk.
Miglior trucco a Kazuhiro Tsuji, David Malinowski e Lucy Sibbick per L'ora più buia.
L'Oscar per i migliori costumi a Mark Bridges per _Il filo nascosto. _