Londra: falso allarme attentato
Commenti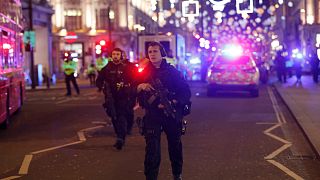 Ore 18.50 (italiana): Riapre la Victoria Line che passa per Oxford Circus e Bond Street. Falso allarme
Un falso allarme confermato che ha scantenato il panico per un'ora e mezza nel cuore di Londra. Poco prima delle 17 locali di venerdi, agenti e auto della polizia sono intervenuti in forza su Oxford street, chiedendo al pubblico di evacuare la zona il prima possibile.
Un allarme di natura non ancora chiarita è scattato poco prima delle 18 ora italiana nella stazione della metropolitana di Oxford Circus, centro dello shopping di Londra, dove la polizia è intervenuta armata e la gente é stata vista fuggire precipitosamente. Tantissime le persone che stavano effettuando gli ultimi acquisti nel giorno di Black Friday e che si sono allontanate a piedi. Alle 18.39 ora italiana, la polizia metropolitana – intervenuta in seguito a delle segnalazioni di spari – ha emesso un comunicato in cui ha precisato che non ci sarebbero sospetti né tracce di colpi esplosi né tantomeno vittime.
We have not located any trace of suspects, evidence of shots fired or casualties. Officers still on scene. If you are in a building stay there, if you are on the street in #OxfordStreet leave the area. Officers continue to search the area. More updates as soon as we have them

— Metropolitan Police (@metpoliceuk) November 24, 2017
Chaos on #OxfordStreet, what's happening pic.twitter.com/SJBLjQHCoJ

— Emily (@EmilyBarnfather) November 24, 2017
Le autorità hanno invitato tramite i social network tutti i presenti nella zona di Oxford Circus a restare al chiuso, all'interno di edifici o negozi. Numerose pattuglie sono affluite nella zona per rispondere a quello che Scotland Yard ha definito "un incidente" nella stazione della metropolitana. In un primo momento, TFL – l'operatore del trasporto pubblico londinese – ha scritto su Twitter del coinvolgimento di un passeggero. Sul posto sono accorsi anche tre mezzi dei vigili del fuoco e 15 pompieri.
Oxford Circus Station is closed while we investigate a customer incident. All trains are not stopping and paper tickets will be accepted on local buses

— TfL Travel Alerts (@TfLTravelAlerts) November 24, 2017
Police are clearing crowds from London's Oxford Circus pic.twitter.com/xvgI5iWnUS

— Thomas Daigle (@thomasdaigle) November 24, 2017
E' stato diffuso un appello ad evitare la zona, mentre é stata chiusa temporaneamente anche la vicina stazione di Bond Street. Al momento la polizia non ha individuato alcuna vittima.
Police called at 16:38 to a number of reports of shots fired on #OxfordStreet & underground at Oxford Circus tube station. Police have responded as if the incident is terrorist related. Armed and unarmed officers are on scene and dealing along with colleagues from BTP</a></p>— Metropolitan Police (metpoliceuk) November 24, 2017