Elisabetta II e Filippo, 70 anni insieme: uno scatto per ogni decade di matrimonio
Commenti
Di ANSA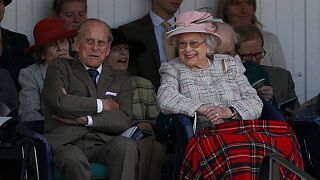 Un ritratto ufficiale e una serie di francobolli per celebrare 70 anni di matrimonio. Nozze di ferro per Elisabetta II e Filippo di Edimburgo, che il 20 novembre segnano un altro traguardo record nella storia dei reali. Per la regina e il principe consorte – 91 anni lei, 96 lui – si tratta di un anniversario da festeggiare in privato, come già annunciato da Buckingham Palace.
The portraits of Her Majesty and The Duke were taken by British photographer Matt Holyoak of Camera Press, in the White Drawing Room at Windsor Castle earlier this month. (2/3) pic.twitter.com/YFUyp8azJJ

— The Royal Family (@RoyalFamily) November 19, 2017
Sull'account Twitter della Famiglia Reale sono comparsi tre inediti ritratti dei due reali – in piedi e sorridenti, la regina in abito chiaro, Filippo con una giacca grigia e una cravatta bordeaux. Un atto di omaggio per la coppia convolata a nozze nel lontano 1947 nella basilica di Westminster. Lui aveva 26 anni, lei 21.
In these new photographs, The Queen and The Duke were pictured in front of a platinum-textured back drop.
The marriage of the then Princess Elizabeth to Lieutenant Philip Mountbatten took place at Westminster Abbey on 20th November 1947. (3/3) pic.twitter.com/Orf37QKqwC

— The Royal Family (@RoyalFamily) November 19, 2017
Nel 1952 l'ascesa al trono di Elisabetta, sul trono inglese da oltre 6 decenni. Nel maggio di quest'anno Filippo ha annunciato il ritiro dagli impegni ufficiali, coincidente con l'alleggerimento dei doveri della sovrana a beneficio dell'erede al trono Carlo.
1. | 1947-1957 | In luna di miele: la principessa Elisabetta e il principe Filippo durante la luna di miele a Romsey, Hampshire, 24 novembre 1947
2. | 1957-1967 | La Regina Elizabetta II e il Principe Filippo assistono ad un match di cricket in Hampshire, Inghilterra, 3 agosto 1958.
3. | 1967-1977 | La Regina Elisabetta II e il Principe Filippo posano per un ritratto ufficiale che commemora il loro 25° anniversario di matrimonio. 20 novembre 1972
4. | 1977-1987 | La Regina Elisabetta II e il Principe Filippo durante una visita a Tuvalu, Oceano Pacifico, il 27 ottobre 1982.
5. | 1987-1997 | La Regina Elisabetta II e il Principe Filippo durante una sfilata a Windsor, Inghilterra, 13 giugno 1994
6. | 1997-2007 | La Regina Elisabetta II e il Principe Filippo brindano alle nozze di diamante in questa immagine pubblicata il 18 novembre 2007
7. | 2007-2017 | La Regina Elisabetta II e il Principe Filippo sul balcone del Palazzo di Buckingham nel luglio 2015