Elezioni Austria: favorito il giovane Kurz
Commenti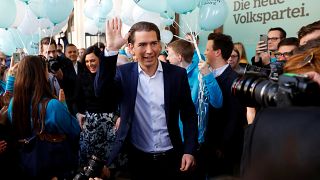 Il giovane Sebastian Kurz , a soli 31 anni, è il favorito alle prossime politiche in austria che si terranno questa domenica. Una campagna fortemente personalizzata che ha cambiato il volto del partito popolare. Pugno duro sui migranti e preferenze che toccano il 33%, per questo leader che potrebbe diventare il più giovane d'Europa.
Watch: 31-year-old Sebastian Kurz will become one of the world's youngest leaders if he becomes Chancellor of Austria. ReutersTV</a> <a href="https://t.co/dlI3ThX56J">pic.twitter.com/dlI3ThX56J</a></p>— Reuters Top News (Reuters) 13 ottobre 2017
Al terzo posto con il 23% sono scivolati i socialdemocratici del cancelliere uscente Christian Kern acccusato di aver condotto una campagna denigratoria sui social media, ai danni del giovane candidato del partito popolare.
La destra ultranazionalista di Christian Strache è data al secondo posto subito dopo il partito popolare. Scenario che potrebbe far pensare ad un'allenza con Kurz verso un governo di coalizione accomunato da un manifesto politico simile.
Sono oltre 6 milioni gli elettori che andranno alle urne domenica per dare un nuovo governo all'austria. Qualsiasi sia l'esito del voto, toccherà al presidente austriaco Alexander Van der Bellen dare l'assenso e non è chiaro se sia disponibile a contemplare un'alleanza.