Uragano Maria : dopo Porto Rico, verso nord-ovest
Commenti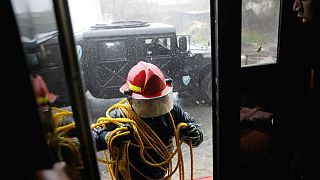 Una Porto Rico irriconoscibile quella mostrata in queste immagini, dopo il passaggio dell'uragano Maria. La furia del vento che ha raggiunto la velcità di 260 chilometri orari, ha provocato danni su tutta l'isola oltre che causare la perdita completa dell'elettricità .
'Storm of the century' Hurricane Maria pummels Puerto Rico https://t.co/ONUdJNvb24pic.twitter.com/GWmP4qsE4Z

—

AFP

news agency (@AFP) 20 settembre 2017
Il governatore Ricardo Rossello aveva avvertito la popolazione "scappate o morirete". Maria che ha seguito la traiettoria di Irma, l'altro uragano che pochi giorni prima aveva devastato i Caraibi, prima di Porto Rico, si era già abbattuto sulle Antille francesi, provocando 7 vittime sull'isola di Dominica e due a Guadalupa, oltre a diversi dispersi.
Il Centro Nazionale Uragani statunitense ha fatto sapere che l'uragano si è indebolito ed è stato declassato dalla categoria 3 a 2. Stato d'allerta intanto già scattato nelle isole dove è atteso il passaggio di Maria. In quelle Vergini sia britanniche che americane, le Bahamas e la Repubblica Domenicana.