Mumbai: lo strano fenomeno dei cani randagi blu
Commenti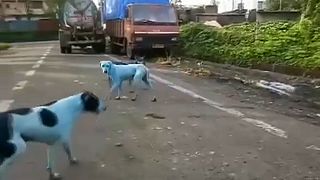 No, queste immagini qui sotto non sono ritoccate. I cani che vedete, sono davvero blu.
The devastating reason Mumbai dogs are turning blue https://t.co/QzuFiUw9n7pic.twitter.com/L2LhlFQbks

— inhabitat (@inhabitat) 18 agosto 2017
Polluted waters from industries are dyeing dogs in blue colour in Navi Mumbai; The same water is flowing into rivers and marshlands. pic.twitter.com/kqIo5XVun6

— GoNews (@GoNews24×7) 17 agosto 2017
Siamo a Mumbai, in India, dove è sempre più frequente incontrare per strada dei randagi di questo colore. Lo stesso, di queste acque, la causa appunto della mutazione degli animali. Secondo i media locali, alcuni di questi cani sarebbero venuti a contatto con l'acqua del fiume Kasadi, che sarebbe contaminata da sostanze chimiche, riversate quotidianamente da stabilimenti alimentari, farmaceutici e tecnologici. Le autorità locali hanno dato il via a una serie di analisi approfondite sugli impianti segnalati.