Silk Way Rally: ultima tappa annullata, trionfa Despres
Commenti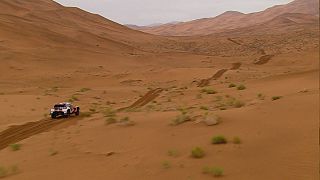 Cyril Despres ha conquistato il Silk Way Rally. Decisivo l'annullamento dell'ultima tappa, dopo che Stephane Peterhansel si era imposto nella tredicesima. "All'inizio ero partito con l'obiettivo di vincere la corsa, non solo delle tappe. Meglio di niente, ma non posso dirmi totalmente soddisfatto", ha detto Peterhansel.
Attention! The organizers decided to cancel the stage14.
Tomorrow competitors are waiting for liazon And a podium in Xian #Silkwayrally2017

— Silk Way Rally (@silkwayrally) 21 luglio 2017
Gli organizzatori hanno deciso di cancellare l'ultima frazione, con arrivo previsto a Xian, per le cattive condizioni meteo. Despres, che aveva accumulato un vantaggio di oltre un ora sui suoi rivali, vince per la seconda volta consecutiva il Silk Way Rally, dopo le cinque affermazioni in moto alla Dakar. Despres è stato molto regolare, con una sola vittoria di tappa contro le cinque del compagno della Peugeot, Peterhansel. Il francese ha preceduto in classifica generale il connazionale Christian Lavieille e il cinese Han Wei. Puo' esultare anche l'italiano Eugenio Amos, che sfruttando i guai alla vettura dell'amricano Menzies, chiude in quarta posizione.
#Silkwayrally2017 stage13 #Xraidteam#Kamazmasterteampic.twitter.com/jkbrygFvSO

— Silk Way Rally (@silkwayrally) 21 luglio 2017
Tra i camion, trionfo per Dmitry Sotnikov, che ha respinto i furiosi assalti del connazionale e compagno di squadra, Anton Shibalov. Il russo, che a un certo punto della giornata aveva visto il suo vantaggio in classifica generale crollare fino a soli 6 secondi, ha poi recuperato terreno, chiudendo con oltre 3 minuti di margine su Shibalov. Sabato i protagonisti saranno a Xian per la cerimonia di premiazione.