Turchia: discorso finale di Erdogan nella giornata per ricordare il golpe
Commenti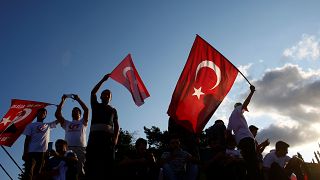 Sono durate fino all'alba le celebrazioni per commemorare il colpo di stato sventato in Turchia. Un anno fa il 15 luglio, il presidente Erdogan che oggi festeggia con il suo popolo si è salvato da un golpe, il cui obiettivo era quello di destituirlo. Un bagno di folla ad Ankara ha accolto il suo discorso mentre si rivolgeva al Parlamento nell'ora esatta in cui l'aviazione golpista ha iniziato i bombardamenti sull'edificio.
WATCHLIVE: President Erdogan speaks live in Ankara on the anniversary of Turkey's 2016 coup attempt https://t.co/kfCrnj9JaWpic.twitter.com/6Fm41OifXJ

— Al Jazeera English (@AJEnglish) 15 luglio 2017
Presidente Recep Tayyip Erdogan:
"Non riuscirete ad abbattere la nostra bandiera. Non riuscirete a dividere la nostra terra e a far cadere il governo. Non riuscirete a far scendere il silenzio sulle preghiere. Non riuscirete a mettere in ginocchio il
nostro paese".
Parole che si aggiungono ad altre dichiarazioni nel corso dell'evento commemorativo in cui il presidente ha celebrato la resistenza del popolo turco. Al termine della giornata, l'inaugurazione del memoriale dei martiri. Sullo sfondo l'ultima ondata di purghe che ha portato al licenziamento di oltre 7 mila persone, considerate nemiche dello stato.