Cannes: Palma d'oro a "The Square" di Ruben Ostlund
Commenti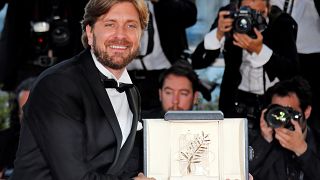 Va a "The Square" del regista svedese Ruben Ostlund la Palma d'oro del 70esimo festival di Cannes. La pellicola è un ritratto della società odierna vista attraverso gli occhi di un curatore di un museo d'arte contemporanea, divorziato e padre di due bambine. Il protagonista sta preparando una mostra dal titolo "The Square" che vorrebbe essere un invito all'altruismo e alla solidarietà, ma una serie di eventi surreali e imprevisti lo fanno sprofondare in una crisi esistenziale.
Il Grand Prix della Giuria è stato assegnato a "120 battiti al minuto" del francese Robin Campillo: ambientato all'inizio degli anni Novanta e incentrato sul dramma dell'Aids, il film era in prima fila tra i favoriti per la Palma d'oro.
A Nicole Kidman è andato invece il premio speciale per il 70esimo anniversario del Festival: l'attrice australiana, assente alla cerimonia di premiazione, ha ringraziato la giuria con un videomessaggio.
Tra gli altri premiati, Sofia Coppola per la "miglior regia" con il film "L'inganno"; Joaquin Phoenix "miglior attore" per "You were never really here"; Diane Kruger "miglior attrice" per il film "In The Fade". Premio della giuria al russo Andrej Zvyagintsev per "Loveless"; "migliore sceneggiatura" ex aequo a Yorgos Lanthimos e Efthimis Filippou per "The Killing of a Sacred Deer" e a Lynne Ramsay per "You were never really here".