Gb, Jeremy Corbyn presenta il manifesto Labour
Commenti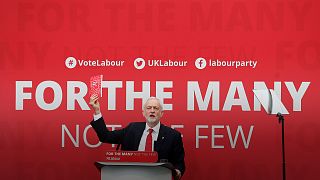 "For the many not the few", "ai tanti non ai pochi", questo lo slogan del manifesto con cui Jeremy Corbyn si presenta agli elettori insieme al partito Labour alle prossime elezioni politiche in Gran Bretagna dell'8 giugno. Secondo la stampa inglese è il programma più a sinistra degli ultimi 35 anni.
We've just published Labour's plan for a fairer Britain. It's the most thoroughly costed manifesto ever. #ForTheManyhttps://t.co/nXm01GIrNd

— Jeremy Corbyn (@jeremycorbyn) 16 maggio 2017
Lontani i tempi del compromesso del New Labour blairiano, l'idea di una nazionalizzazione su larga scala è uno dei punti principali del manifesto. Non solo le ferrovie, ma anche diverse società del settore idrico. Tra le novità sul fronte fiscale l'introduzione di una "Robin Hood Tax" e l'ampliamento della fascia soggetta all'aliquota più alta.
I Tory hanno duramente crirticato le proposte dell'opposizione, parlando del rischio di un aumento "drammatico" delle tasse. La partita elettorale si gioca adesso sulla conquista dei voti della "working class", al centro del programma laburista, che, stando agli ultimi sondaggi deve recuperare terreno. Il partito della premier Theresa May mantiene il vantaggio, attestandosi intorno al 49% contro il 31% del partito d'opposizione.
Latest Westminster voting intention (11-12 May)
CON 49%
LAB 31%
LD 9%
UKIP 3%
OTH 8%https://t.co/JwHUus28Mapic.twitter.com/f91j2Clj0C

— YouGov (@YouGov) 14 maggio 2017