L'aurora boreale vista dalla Stazione spaziale internazionale
Commenti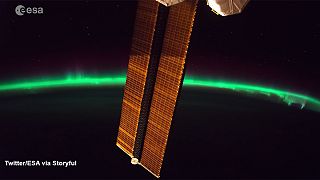 L'astronauta francese Thomas Pesquet ha realizzato un nuovo incredibile video da bordo della Stazione spaziale internazionale, riuscendo a catturare in timelapse il suggestivo fenomeno dell'aurora boreale.
The serene calm of our solar array and #aurora is accentuated by that one bright flash of lightning. #timelapsehttps://t.co/1ucfQMh02Rpic.twitter.com/NAnMq70mvA

— Thomas Pesquet (@Thom_astro) 30 avril 2017
L'aurora polare (boreale al Polo Nord e australe al Polo Sud), è la conseguenza dell'interferenza del fenomeno del vento solare sui campi magnetici della Terra.