Caracas, 3 morti nelle proteste anti-Maduro
Commenti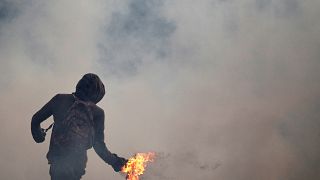 Secondo giorno di proteste in Venezuela, che durante la giornata di mercoledì, ha visto la morte di tre persone. Il variegato fronte delle opposizioni aveva organizzato "la madre di tutte le manifestazioni". In tutte le città del paese sono scese in piazza decine di migliaia di persone per chiedere la liberazione dei leader dell'opposizione dal carcere e nuove elezioni.
Anti-Maduro protesters, braving tear gas and pro-government gangs, jam streets of Caracas. https://t.co/MuD66amlThpic.twitter.com/9816PAkK7M

— New York Times World (@nytimesworld) 20 aprile 2017
Durante le proteste, le forze dell'ordine hanno utilizzato lacrimogeni contro la folla e i manifestanti, che, a volto coperto, hanno iniziato a lanciare pietre. Una donna, diventata il simbolo della manifestazione, avvolta nella bandiera nazionale, ha bloccato da sola un blindato su un'autostrada di Caracas.
Caracas come Tienanmen: una donna da sola ferma un mezzo blindato. Contro presidente Maduro rischio guerra civile → https://t.co/84kdRo6iIQpic.twitter.com/PgXIsPbuGb

— Rainews (@RaiNews) 20 aprile 2017