Afghanistan, sale il numero delle vittime della "superbomba"
Commenti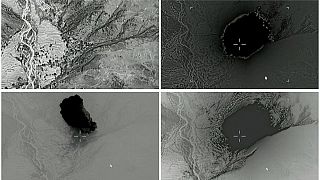 E' salito il numero delle vittime della "Madre di tutte le bombe", l'ordigno non nucleare piu' potente dell'arsenale americano lanciato su una roccaforte dell'Isis lo scorso giovedì nella provincia orientale afgana di Nangarhar. 94 morti secondo l'ufficio stampa del governo provinciale, cifra smentita dallo Stato Islamico che non conferma.
A #MOAB bomb strikes #ISIS cave & tunnel systems in eastern #Afghanistan. The strike was designed to minimize risk to Afghan and U.S. Forces pic.twitter.com/7pfBYQzk5F

— U.S. Dept of Defense (@DeptofDefense) 14 aprile 2017
Tra le vittime della super bomba sganciata su almeno tre tunnels sotterranei del Califatto, vicino al confine con il Pakistan, ci sarebbero anche quattro comandanti dell'organizzazione guidata da Abu Bakr Al Baghdadi.
Il portavoce della casa Bianca Spicer in conferenza stampa, ha spiegato che l'utilizzo dell'ordigno GBU – 43,che rientra nella lotta allo Stato Islamico, è servito per distruggere un sistema difensivo utilizzato dall'Isis per il dislocamento di armi e uomini.