Corea del Nord:"andremo in guerra se gli Stati Uniti lo vorranno"
Commenti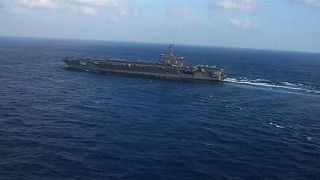 Tensione alle stelle tra Stati Uniti e Corea del Nord, dopo l'invio su ordine di Trump, della flotta guidata dalla portaerei a propulsione nucleare a largo di Pyongyang. In un'intervista all'Associated Press il viceministro degli Esteri nordcoreano risponde alla prospettiva di un attacco preventivo in vista del prossimo test nucleare.
VIDEO: North Korean official blames U.S. for tensions in exclusive interview with AP</a> in Pyongyang. <a href="https://t.co/lZ56UuCKaz">https://t.co/lZ56UuCKaz</a></p>&mdash; The Associated Press (AP) 14 aprile 2017
"Non é vero che è la Corea del Nord a creare problemi, è vero il contrario", assicurando che se "Gli Stati Uniti lo vorranno, Pyongyan è pronta ad andare in guerra".
Nessun commento intanto dal Pentagono, sulle indiscrezioni della Nbc secondo le quali gli Stati Uniti sarebbero pronti a sostituire lo scontro verbale con l'azione militare.
Pentagon declines comment on NBC story on North Korea https://t.co/9yg56ONQwXpic.twitter.com/EPz5jdyc7i

— Reuters Top News (@Reuters) 14 aprile 2017
L'invio delle navi da guerra statunitensi nel mare coreano ha fatto scattare la telefonata del presidente cinese Xi Jinping a Trump. Pechino si è offerto come mediatore tra Stati Uniti e Corea del Nord per dissuadere Pyongyang dal condurre nuovi test nucleari.