Russia, intervento Usa in Siria è una minaccia per la stabilità globale
Commenti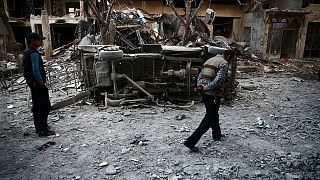 Mosca ha duramente criticato l'intevento Usa contro Assad, definendolo deleterio per le relazioni tra i due paesi già critiche.Il ministro degli Esteri russo Lavrov ha chiarito che l'intervento militare americano rappresenta una minaccia per la stabilità sia a livello regionale che globale.
Assad allies say U.S. attack on Syria air base crosses 'red lines' https://t.co/QZdACq2jXgpic.twitter.com/WUwoNdrbyp

— Reuters Top News (@Reuters) 9 aprile 2017
Il commento di Lavrov è emerso durante un colloquio telefonico con il Segretario di Stato americano Rex Tillerson. L'intesa condivisa prevede la continuazione delle discussioni sulla Siria durante la visita di Tillerson a Mosca nei prossimi giorni.
The Chemical Attack is an atrocity to the peop of Syria, we shall remove Assad by flexing our power muscle. https://t.co/B4e4QLL6xy

— Sec Rex Tillerson (@TillersonUSA) 7 aprile 2017
La Turchia ha escluso che i bombardamenti Usa possano contribuire a rendere i rapporti tra Stati Uniti e Siria più critici. Ankara vuole il cessate il fuoco, ma è convinta che la Russia debba smettere di sostenere Assad.
Dall'Iran, alleato numero uno di Damasco, è intervenuto Il presidente Rouhani, che ha attaccato la decisione di Trump di intervenire militarmente.Teheran ha anche criticato alcuni paesi mediorientali che hanno elogiato la scelta del presidente americano.
Putin and Rouhani condemn U.S. airstrikes in Syria in phone call, Kremlin says https://t.co/0zd2LnGUJapic.twitter.com/uXMiBDnpOI

—

NBC

News (@NBCNews) 9 aprile 2017
Una versione precedente di questo servizio citava un articolo di Reuters contenente un commento che sarebbe emerso da un centro di comando congiunto di Russia e Iran. Euronews ritiene che questo articolo non sia corretto.Ci scusiamo per l'errore.