Stati Uniti: Gorsuch confermato alla Corte Suprema
Commenti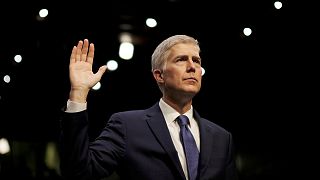 Prima vittoria della giovane presidenza di Trump al Congresso, il Senato degli Stati Uniti ha confermato la nomina alla Corte Suprema del giudice indicato dal presidente Neil Gorsuch. Il conservatore occuperà la poltrona lasciata vuota dopo la morte di Antonin Scalia.
54 i voti favorevoli, 45 contrari e sullo sfondo un lungo braccio di ferro, con da una parte l'opposizione dei democratici e dall'altra la determinazione dei repubblicani che per avere la meglio hanno portato la soglia minima necessaria da 60 voti a 51.
61 senators sign letter urging leaders to preserve the filibuster after GOP changed rules to confirm Neil Gorsuch https://t.co/kApqeXwQ5tpic.twitter.com/39VWlLDsmL

—

CNN

Breaking News (@cnnbrk) 7 aprile 2017
Lunedì il giuramento con una cerimonia alla Corte Suprema e un'altra alla Casa Bianca. In aula al Senato c'era anche il vicepresidente Mike Pence: "Spero che il giudice Gorsuch abbia seguito il nostro dibattito e ascoltato le preoccupazioni espresse, soprattutto sulle derive della Corte Suprema, che sta diventando un tribunale corporativo che favorisce gli impiegati, le corporazioni e speciali interessi a discapito dell'America che lavora".
La sua nomina alla Corte Suprema ha scatenato diverse proteste. Si teme che il giudice 49enne di Denver possa modificare di nuovo gli equilibri all'interno della massima istanza giudiziaria statunitense a favore dei conservatori.