Australia, sequestrati 900 kg di metanfetamina in cristalli a Melbourne
Commenti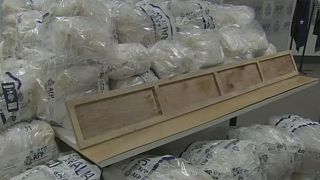 Maxi retata contro il traffico di stupefacenti a Melbourne in Australia. La polizia federale ha sequestrato oltre 900 chilogrammi di metanfetamina in cristalli per un valore di circa 680 mila dollari. La droga era stata nascosta sotto il pavimento di una fabbrica della città.
"We have a taste in Australia for ice…"

The record ice haul shows Melbourne is "awash" with drugs —> https://t.co/Qn2NQ9wzflpic.twitter.com/OzxVsopEG1

— 3AW Melbourne (@3AW693) April 4, 2017
"Siamo tutti molto orgogliosi di quello che abbiamo fatto, ha detto il Ministro della Giustizia Michael Keenan, in collaborazione con il corpo di polizia è stato eseguito il più grande sequestro di "ice" della storia dell'Australia. Sappiamo che nel nostro Paese abbiamo un problema molto serio con questo tipo di droghe illecite, è stato anche confermato dalla analisi dell'acqua di scarico che abbiamo analizzato la settimana scorsa. L'assunzione di questi farmaci è il problema più grave che abbiamo mai dovuto affrontare."
Due uomini sono finiti in manette con l'accusa di spaccio. Era dall'inizio dell'anno che la polizia stava lavorando su questo caso.
Australia makes 'largest ever' crystal meth seizurehttps://t.co/s1ee6TP3nm#Australia#crystalmeth#Drugs#Crime#Melbournepic.twitter.com/R1g4eB7ptz

— World News Network (@worldnewsdotcom) April 5, 2017