Navalny arrestato nel corso di una protesta nel centro di Mosca
Commenti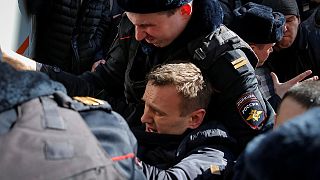 Alexei Navalny è stato arrestato nel corso di una manifestazione anti-corruzione a Mosca. Il leader russo d'opposizione aveva lanciato un appello a scendere in piazza e cortei si sono svolti in diverse città, con la partecipazione di alcune migliaia di persone. Le dimostrazioni non erano state autorizzate.
L'attivista è stato caricato a forza su un cellulare della polizia. La folla ha circondato il pulmino urlando fascisti, liberatelo!
Navalny tweets from bus after detained: "Guys, I'm fine. You don't need me. Go to Tverskaya. Our agenda is the fight against corruption." https://t.co/AbPRZvNrET

— Christopher Miller (@ChristopherJM) March 26, 2017
Navalny aveva pubblicato sul suo blog un rapporto che accusa il premier Dmitri Medvedev di contrallare in segreto un impero immobiliare grazie a una rete di ong.
Il blogger, che è stato già arrestato varie volte e condannato, per reati da ascriversi al suo attivismo politico, ma anche per truffa e appropriazione indebita ai danni di un'azienda statale (la Kirovles) intende presentarsi alle elezioni presidenziali dell'anno prossimo. Su questo però c'è incertezza.
Secondo le autorità russe non può presentarsi, proprio a causa dei trascorsi giudiziari. Per i legali del diretto interessato invece, siccome la condanna è sospesa, potrebbe.
Protestors almost forced the door open of police bus that navalny</a> is reportedly in. "Let him out!" "Shame!" they chant <a href="https://t.co/KHkLUSz8aI">pic.twitter.com/KHkLUSz8aI</a></p>&mdash; Alec Luhn (ASLuhn) March 26, 2017