Scozia, via libera all'iter per referendum sull'indipendenza
Commenti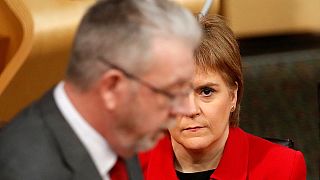 Non si è fatta attendere la risposta scozzese al via libera formale alla Brexit previsto per oggi a Londra, con la discussione alla Camera dei Comuni dei due emendamenti approvati dai Lord. La premier scozzese Nicola Sturgeon ha annunciato per la prossima settimana l'avvio dell'iter nel parlamento locale per un refendum bis sull'indipendenza della Scozia.
✍️ If you agree Scotland should have a choice on the kind of country we are going to be, sign the pledge: https://t.co/9mK4v8U3ot#ScotRefpic.twitter.com/7XveMkRNh0

— The

SNP

(@theSNP) 13 marzo 2017
Promessa mantenuta dalla Sturgeon e decisione inevitabile dopo il recente rifiuto della premier britannica May alla possibilità per la Scozia di partecipare alle trattative con l'Unione Europea. La Scozia, ha annunciato la leader scozzese "deve poter scegliere il meglio per il suo futuro".
Secondo tentativo quindi dopo la consultazione popolare del 2014 che decreto' la vittoria degli unionisti. il nuovo referendum, ha detto la Sturgeon, potrebbe essere organizzato tra la fine del 2018 e l'nizio del 2019.
Scotland demands new independence vote: https://t.co/ZdaTZsG38Bpic.twitter.com/HS7nbNWTDQ

— Reuters Top News (@Reuters) 13 mars 2017
In una nota, arriva il duro riufiuto della proposta da parte di Downing Street. il portavoce della premier May, fa sapere che in un momento come questo, l'indipendenza della Scozia, causerebbe una forte "'incertezza economica". Downing Street ha anche ricordato che la maggioranza degli scozzesi ha rifiutato la secessione in seguito alla consultazione del 2014. Gli umori intanto potrebbero essere cambiati. Nel referendum dello scorso giugno, la Scozia si è schierata contro l'uscita del Regno Unito dall'Ue.