Obama risponde a Trump: "Mai autorizzato intercettazioni su cittadini americani. Trump mente"
Commenti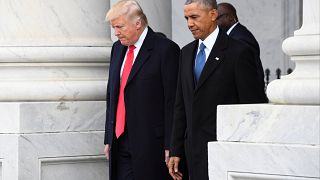 Battaglia a colpi di tweet e accuse di spionaggio: il clima tra il nuovo inquilino della Casa Bianca Donald Trump e il suo predecessore Barack Obama si incendia.
"Nè il presidente Obama, nè nessun altro dirigente della Casa Bianca ha mai ordinato intercettazioni a carico di cittadini americani. Qualsiasi altra versione è inequivocabilmente falsa".
Neither barackobama</a> nor any WH official under Obama has ever ordered surveillance on any US Citizen. Any suggestion is unequivocally false <a href="https://t.co/qF04X3NUvq">pic.twitter.com/qF04X3NUvq</a></p>— Kevin Lewis (KLewis44) 4 marzo 2017
Questa la risposta del portavoce di Obama alla raffica di accuse "cinguettate" via twitter dal Presidente Trump all'alba di sabato.
Secondo Trump Obama avrebbe ordinato di intercettare il suo telefono durante la campagna. "Vero Maccartismo", sostiene Trump che, rincara la dose paragonando l'ex presidente, uomo cattivo e malato dice, al Nixon del Watergate
Terrible! Just found out that Obama had my "wires tapped" in Trump Tower just before the victory. Nothing found. This is McCarthyism!

— Donald J. Trump (@realDonaldTrump) 4 marzo 2017
How low has President Obama gone to tapp my phones during the very sacred election process. This is Nixon/Watergate. Bad (or sick) guy!

— Donald J. Trump (@realDonaldTrump) 4 marzo 2017
Nessun dettaglio sulle fonti: forse uno spunto che Trump avrebbe letto sul sito iper conservatore diretto fino a pochi mesi fa dal suo consigliere strategico Steve Bannon.
Quel che è certo è che il nuovo caso scoppia mentre è ancora apertissimo il dossier dei presunti rapporti segreti intercorsi tra gli uomini di Trump e alcuni diplomatici russi durante la campagna. Per Trump, dietro la fuga di notizie ci sarebbe proprio la regia dell'ex Presidente Obama.